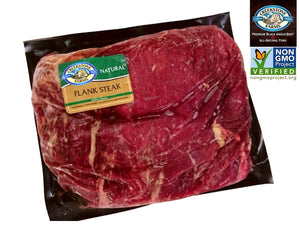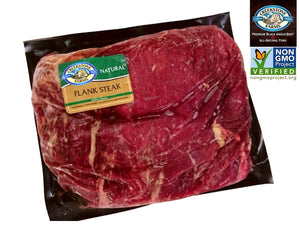 On Sale
USA Creekstone Farms Premium Angus Beef Flank Steak
No hormones No antibiotics 
Size: from 700-1200g
We will get you a pack to the nearest weight.
CREEKSTONE FARMS PREMIUM BLACK ANGUS BEEF
What makes Creekstone Farms Premium Black Angus Beef the best?
USDA Certification - Requires more stringent supervision and testing than non-certified programs
Proprietary Black Angus genetics, some of the best in the industry, serve as the benchmark of quality for our program
The humane treatment of our cattle helps to produce superior quality beef
Cattle sourced from Creekstone Farms Black Angus genetics and verifiable Black Angus genetics documented through our rancher partners
Corn-based feed ration produces well-marbled, tender beef
State of the Art processing takes place in our own plant devoted solely to the production of Creekstone Farms Premium Black Angus Beef.
This special marinade brings out all of the natural flavors of the beef. The lime juice works its way into the fibers of the tender beef, giving it a pleasant citrusy flavor. Grab a few tortillas and condiments and create a tasty taco fiesta.
Non GMO Project Verified
Raised on GMO- Free feed
Raised without antibiotics or added hormones
Sourced from single family farm
100% born and raised in the USA
Dedicated to humane animal care
Easy cooking:
Ingredients
1 pack of Creekstone Farms Flank Steak (about 800 grams
1/4 cup lime juice
1 orange – juiced
3 garlic cloves – smashed
3 tablespoons balsamic vinegar
1/2 cup olive oil
Salt & black pepper
Instructions
Put flank steak in a large Ziplock bag and add remaining ingredients. Let marinate in the refrigerator for 30 minutes to 2 hours.
Remove from bag and let sit at room temperature for 15 minutes before grilling.
Get your grill very hot and cook flank steaks on each side for about 4 minutes, being careful to not burn.
Cook until medium rare (internal temp = 132° F). Let steaks rest for 3-4 minutes then slice and serve.
Beef: a wholesome, nutritious option
Serving for serving, there aren't many foods that can match the ZIP beef has to offer:
Zinc – needed for many of the body's essential functions
Iron – helps carry oxygen to cells and aids in brain development
Protein – helps keep you energized and regulate body processes
Beef is also an excellent source of:
B Vitamins, including riboflavin and thiamin – promote growth and maintain health
Conjugated Linoleic Acid (CLA) – a fatty acid that may play a role in cancer prevention and contributes to heart health
Selenium – an antioxidant that helps prevent damage to cells
Choline – plays a vital role in cognition and memory
Defrosting by refrigerator
We need to plan ahead that what food will be cooked in the next day because of a long defrosting time, usually overnight.
Food should be wrapped to prevent contamination.
We should place ready-to-eat (RTE) food and non-ready-to-eat food at upper and lower compartments of refrigerator respectively.
The defrosted food should be placed in refrigerator at all time until it is used or consumed.
Food should be used or consumed within 2 days.
美國 Creekstone Farms 安格斯優質安格斯側腹牛排
每包約 800 克
美國 Creekstone 農場優質安格斯牛肉
USDA認證:需要更嚴格的監督和測試
採用專有的黑安格斯遺傳學為質量基準
人道方式飼養牛隻,生產優質牛肉
牛隻來自Creekstone 農場的安格斯黑牛
以玉米餵飼,培育出大理石油花分佈最多質地的嫩牛肉
以最先進的加工處理牛隻,確保質量
非轉基因項目認證
在GMO上飼養-免費飼料
飼養時不使用抗生素或添加激素
來自單戶農場
100%在美國出生和成長
人道培養
這種特殊的醃料帶出了牛肉的所有天然風味。酸橙汁進入嫩牛肉的纖維中,散發出令人愉悅的柑橘味。抓住一些玉米餅和調味品,創造出美味牛排。 
香煎牛排
1 包 Creekstone Farms 牛排(約800克)
1/4 杯檸檬汁
1 橙–榨汁
3 瓣大蒜–搗碎
3 湯匙香醋
1/2 杯橄欖油
鹽和黑胡椒
簡易煮法
將牛排放在一個大的自封袋中,然後加入醃料,在冰箱中醃30分鐘至2小時。
從袋子中取出,在燒烤前於室溫下放置15分鐘。
燒熱易潔鑊,每邊煎約4分鐘,注意不要燃燒。
煮至 6-7 成熟(內部溫度= 132°F)。讓牛排靜置3-4分鐘,然後切片即可食用。
放 進 雪 櫃 解 凍
解 凍 需 時 ( 通 常 要 一 晚 時 間 ) , 我 們 須 預 早 計 劃 明 天 所 烹 煮 的 食 物 。
食 物 須 用 保 鮮 紙 包 好 , 免 受 污 染 。
即 食 食 物 應 放 在 雪 櫃 上 層 , 非 即 食 食 物 放 在 下 層 。
除 了 洗 切 處 理 或 食 用 外 , 已 解 凍 的 食 物 應 常 放 在 雪 櫃 內 。
食 物 應 在 兩 天 內 處 理 或 食 用 。