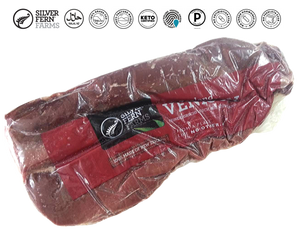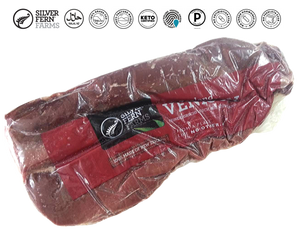 On Sale
New Zealand Silver Fern Farms Venison Tenderloin (2pcs)
Approx 700-1000g
We will get you a pack to the nearest weight.
The tenderloin is removed from the inside of a bone-in loin in one piece. The side muscle is removed.

Silver Fern Farms Venison.
A fresh ingredient to inspire your imagination.
PASTURE RAISED
NO ADDED HORMONES
NO ANTIBIOTIC FEEDING
NUTRITIONAL INFORMATION

Protein 22.6 g
Energy - kilojoules 484 kJ
Energy - calories 116 Cal
Fat - total 2.7 g
Fat - saturated 1.6 g
Sodium 39 mg
Carbohydrates <0.5 g

Venison Roast with Kale and Cauliflower and Turmeric Onions
By Silver Fern Farms

Ingredients
1 pack Silver Fern Farms Venison Roast
1 ½ tsp ground turmeric (fresh grated turmeric could also be used)
2 tsp ground cumin
1 ½ tsp ground coriander
½ head cauliflower, cut into florets
6 small pearl onions, peeled
150g asparagus, stems removed and broken into pieces
¼ C olive oil
Onion puree
2 tablespoons butter
2 onions, peeled, thinly sliced
100ml cream
Pinch salt and freshly ground black pepper
Method
Remove the Silver Fern Farms Venison Roast from the fridge and packaging. Mix together the turmeric, cumin, and coriander with salt and freshly ground black pepper. Sprinkle half of the spice mix over the venison, turning the meat to coat all sides. Allow to rest at room temperature for 10 minutes while preparing the vegetables.
Heat a frying pan on a low heat and melt the butter. Cook the onions slowly in the butter, without browning the onions, for 5 mins. Once they are soft and tender pour in the cream. Cook for an additional 5 mins. Puree onion mixture, while hot in a high speed blender until smooth. Pass through a sieve and season with the salt and pepper.
Preheat the oven to 200°C. Line a baking tray with foil. Place the venison roast in the middle of tray and arrange the cauliflower, small pearl onions and kale around the meat.
********************

Silver Fern Farms Venison is grass-fed and farmed free-range on the open pastures of New Zealand. This preserves the venison's natural vitality, while giving it a distinctively delicate flavour. A supremely nutritious and versatile choice, Silver Fern Farms Venison is tender, lean and delicious.

We offer a full range of chilled and frozen cuts, produced to exacting specifications and packaged to suit customer requirements. All our venison products are carefully selected and processed in accordance with strict hygiene and safety standards.
Naturally grass-fed, pasture-raised
Farmed free
Delicate flavour and consistent quality
Supremely lean with a natural vitality