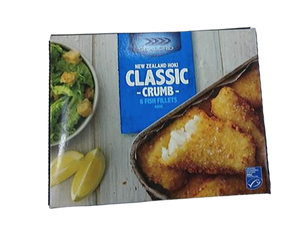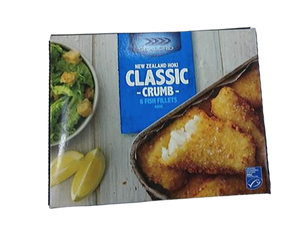 On Sale
New Zealand Hoki Fillet With Crumb (6 pcs)
About 6 pcs per pack, 480g
Good source of protein
Low Sugar
Good source of Omega-3
Good for a healthy heart+
Good for healthy bone & muscles ++
INGREDIENTS
Hoki (50%), classic crumb (50%) [wheat flour, vegetable oils, water, salt, thickener (1404), sugar, yeast, dehydrated vegetables, dextrose, whey powder (contains milk), yeast extract, wheat gluten].

Contains fish, wheat, gluten & soy.
Fish Tacos
This fish taco recipe is a treat for the whole family and a great way to add variety (and vegetables!) to your weeknight meals.
4 servings
11 ingredients
15 min preparation time
15 min cooking time
INGREDIENTS

1x 400g Sealord Fish Bites classic crumb
2 ripe avocado
1/4 cup coriander leaves, chopped
1 spring onion, chopped
1/2 tsp chilli flakes
dash red tabasco sauce
1 lime, juice
1 garlic clove, peeled and minced salt for seasoning 
8 small flour tortillas red and green cabbage, thinly sliced
DIRECTIONS

Preheat the oven to 220°C.
Place fish bites onto tray and cook for approx. 7 minutes on each side or until fully cooked.
While the fish is cooking, peel the avocados and place flesh in a mixing bowl. Add the coriander, spring onions, chilli flakes, tabasco, lime juice, garlic and some salt. Mash together with a fork.
Wrap the tortillas in foil and place in the oven for a few minutes. When the fish is ready, place tortillas on a flat surface.
Place some cabbage on a tortilla, followed by the guacamole. Top with fish bites.